This year eight students have been building and programming VEX robots. Now some are getting ready for our first competition on Friday, December 13, in Vale, Oregon. So far it looks like we may have two teams entering.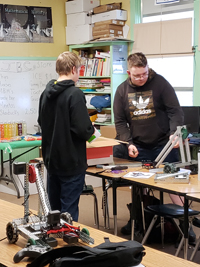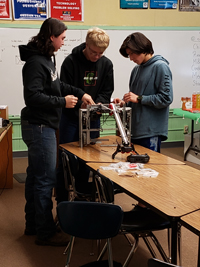 Last year's team consisting of Quinton, Ricardo, Vasco and Wilbur, worked after school compiling about 35 hours of robot building, and rebuilding. They then had driving time and programming to get ready for their competition in Vale, Oregon. The competition, Turning Point, was held on Friday, February 8.
They did well for their first meet, earning their way into the quarterfinals.
Interested in next year's competition? Check out vexrobotics.com for the new game announcement in late spring. Plan to begin work early to enter competitions in January!