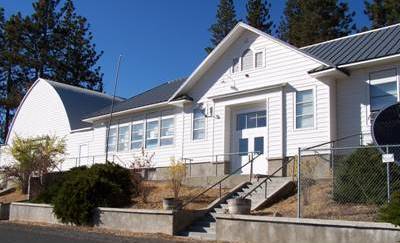 Ukiah School is nestled in the foothills of the Blue Mountains of Eastern Oregon. The community of Ukiah, Oregon hosts our white school house as a prominent fixture, proudly capping the hill on the north side of town.
The current school building was built in 1926, and has served in educating the youth of the Camas Valley for 84 years.
In Ukiah, grades K-12 are housed together in the white school house, reminiscent of the old fashioned one room school house. Classes from preschool to 5th grade are housed in the north wing, while the rest of the students share classrooms surrounding the open foyer of the school, contributing to the open and interactive relationships we are proud to promote. The unique environment in Ukiah allows for close interaction of students of various ages as well as school staff.